Blog
Posted on Thursday February 4, 2022 at 08:00:00 AM
---
---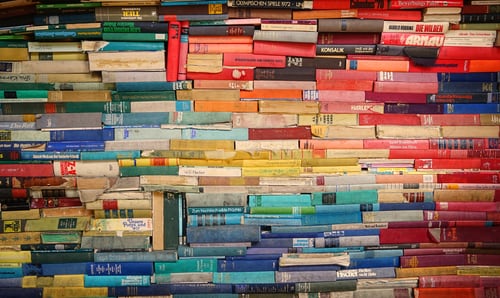 ---
Maybe you would consider yourself a bookworm and consume a book each month. You have certainly finished all the books you received as Christmas gifts! Perhaps you are an occasional book reader, sneaking in a few pages when you have a spare moment. You certainly did not have a book on your gift list this year! But, you need a new page turner as you have more time on your hands than you realized. However you are approaching your next book, here are 10 titles for you to consider. Dive in!! Before you know it, the time will be here to round up your summer read!


The Coaching Habit: Say Less, Ask More & Change the Way You Lead Forever
Michael Bungay Stanier https://amzn.to/31DBoRI
In Michael Bungay Stanier's The Coaching Habit, coaching becomes a regular, informal part of your day so managers and their teams can work less hard and have more impact.


Decisive: How to Make Better Choices in Life and Work
Chip Heath and Dan Heath https://amzn.to/2NcIDMD
Decisive is the Heath brothers' most powerful—and important—book yet, offering fresh strategies and practical tools enabling us to make better choices. Because the right decision, at the right moment, can make all the difference.


Declutter Your Mind: How to Stop Worrying, Relieve Anxiety, and Eliminate Negative Thinking
Barrie Davenport and S. J. Scott https://amzn.to/2KL8rwu
Declutter Your Mind is full of exercises that will have an immediate, positive impact on your mindset. Instead of just telling you to do something, we provide practical, science-backed actions that can create real and lasting change if practiced regularly.


Deep Work: Rules for Focused Success in a Distracted World
Cal Newport https://amzn.to/2H4JF9I
In DEEP WORK, author and professor Cal Newport flips the narrative on impact in a connected age. Instead of arguing distraction is bad, he instead celebrates the power of its opposite. Dividing this book into two parts, he first makes the case that in almost any profession, cultivating a deep work ethic will produce massive benefits. He then presents a rigorous training regimen, presented as a series of four "rules," for transforming your mind and habits to support this skill.


Getting Past No: Negotiating in Difficult Situations
William Ury https://amzn.to/2KIENbp
Getting Past No is the state-of-the-art book on negotiation for the twenty-first century. It will help you deal with tough times, tough people, and tough negotiations. You don't have to get mad or get even. Instead, you can get what you want!


Grinding It Out: The Making of McDonald's
Ray Kroc https://amzn.to/31uhmJA
Few entrepreneurs can claim to have radically changed the way we live, and Ray Kroc is one of them. His revolutions in food-service automation, franchising, shared national training, and advertising have earned him a place beside the men and women who have founded not only businesses, but entire empires


How to Fail at Almost Everything and Still Win Big: Kind of the Story of My Life
Scott Adams https://amzn.to/2Z8Z27b
Scott Adams has likely failed at more things than anyone you've ever met or anyone you've even heard of. So how did he go from hapless office worker and serial failure to the creator of Dilbert, one of the world's most famous syndicated comic strips, in just a few years? In How to Fail at Almost Everything and Still Win Big, Adams shares the game plan he's followed since he was a teen: invite failure in, embrace it, then pick its pocket.


Master Content Marketing: A Simple Strategy to cure the Blank page Blues and Attract a Profitable Audience
Pamela Wilson https://amzn.to/2YYKHKp
Content marketing is how marketing happens today. You know you want to use it, but you're unsure about where to start. You may not feel confident about your writing abilities, either. Master Content Marketing is a step-by-step guide through the content marketing process.


So Good They Can't Ignore You: Why Skills Trump Passion in the Quest for Work You Love
Cal Newport https://amzn.to/2Z22X5R
In this eye-opening account, Cal Newport debunks the long-held belief that "follow your passion" is good advice. Not only is the cliché flawed-preexisting passions are rare and have little to do with how most people end up loving their work-but it can also be dangerous, leading to anxiety and chronic job hopping. SO GOOD THEY CAN'T IGNORE YOU will change the way we think about our careers, happiness, and the crafting of a remarkable life.


When Genius Failed
Roger Lowenstein https://amzn.to/2Ts6R6P
In this business classic—now with a new Afterword in which the author draws parallels to the recent financial crisis—Roger Lowenstein captures the gripping roller-coaster ride of Long-Term Capital Management. Drawing on confidential internal memos and interviews with dozens of key players, Lowenstein explains not just how the fund made and lost its money but also how the personalities of Long-Term's partners, the arrogance of their mathematical certainties, and the culture of Wall Street itself contributed to both their rise and their fall.
---
Previous Page